John Law is a superb teacher. He took me from a mere beginner to diploma level, inspiring me to be the best I could be."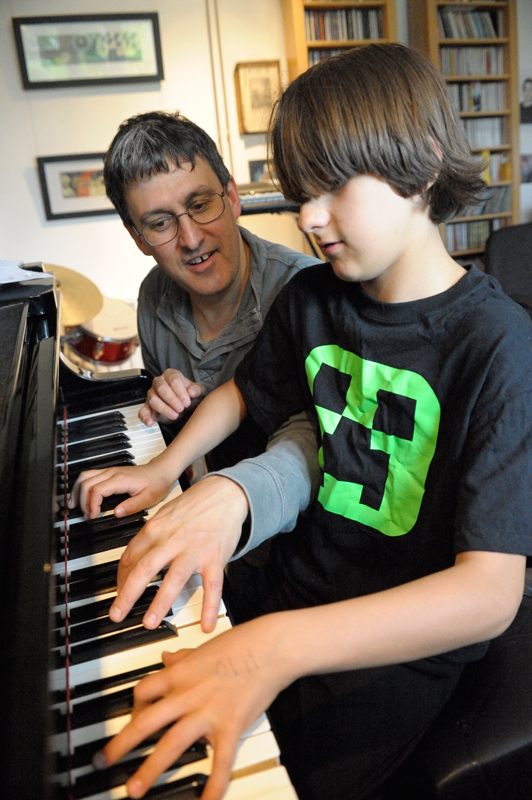 With over 35 years' teaching experience behind him, John Law has developed a unique approach to inspiring creativity and developing a love for the piano and for music, in pupils of all ages.
Alongside his performing, composing and recording career John has been teaching both one-to-one and in classes and workshops, both privately and in schools and colleges, continuously from 1984. During this whole time, and while also bringing up his own family and seeing his children develop, John has created an inspirational approach to furthering both child and adult creativity. So while never neglecting his classical roots (John was originally trained as a concert pianist, in both London and Vienna) he has also created a repertoire of teaching material based on jazz, latin, African, rock and utilising rhythm, groove and improvisation.
Teaching achievements include: scholarships to the Royal College of Music, Royal Welsh College of Music, two scholarships to Birmingham Conservatoire; one young pupil gained one of the highest marks in the UK at ABRSM Grade 7, winning a Gold Medal and two prizes. John Law has 100% success (pass and above) for all grade exams from Grade 1 up to Diploma level. But John's main aims in teaching are that each individual achieves both their technical and creative potential, and that through interaction with him they develop a life-long love of music and of the piano.
(Photo: John giving his own son, thirteen year old Jasper, a lesson!)
Online Tuition
John offers online teaching, using platforms such as Zoom, Teams, Skype, FaceTime. Contact John, if you're interested in either a one-off consultation lesson or a series of lessons, by emailing johnlawjazz@gmail.com
Testimonials
John is, quite simply, one of the most remarkable teachers I've ever had. Not only is he incredibly technically proficient, and willing to pass on that knowledge, but he has a great understanding of what makes music 'go'. And the wonderful thing is that he can teach that.
He made the music accessible, it was exciting and also challenging. It started my journey into enjoying jazz piano.
Ever patient, he seems to zone in on just the right thing, when fingers stubbornly refuse to cooperate, and his amazingly sensitive hearing is attuned to every single note. He doesn't miss a trick! John's inspirational teaching has enabled me to reach a level of piano playing I hardly dared dream possible.
As a teacher John goes well beyond simply imparting musical knowledge and technique. He saw the musical ability in our son, valued it and nurtured it by his constant sense of enthusiasm and unwavering support for him. By doing so, he helped to create the passionate musician our son is today.