This Is
John Law, Mark Pringle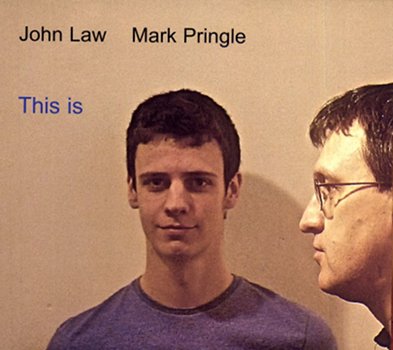 This duet for two pianos by the reliably excellent Law and Pringle, his stupendously talented young pupil, is so full of joy that it can renew your faith not just in jazz, but music itself.
They begin with Bach, rattling off a harpischord concerto like boogie-woogie kings Ammons and Johnson, then lead in to the flying fingers of "Chorinho" by Lyle Mays. Perhaps the highpoint is "Fun at Five" by Law, where notes seem to fly around the listening room like colours in a Kandinsky abstract.

Phil Johnson, Independent on Sunday July 2011

John Law, a classically trained pianist and composer, keeps his own counsel on the UK jazz scene, pursuing a distinctive agenda that has moved over the years from contemporary-classical/improv explorations, through more lyrical music with hints of Brad Mehldau, and lately to the borders of an amiable funkiness, and a little exploration of other composers' tunes. This keyboard duet set maintains his unswerving focus on music that matters to him, regardless of pragmatic considerations. It's a sequence of often very animated exchanges on originals and unusual covers with newcomer Mark Pringle, one of Law's piano pupils, who is just beginning conservatoire studies. The two start by gradually stretching the melodic and rhythmic bindings of a movement of Bach's Concerto for Two Harpsichords. One of the set's highlights is a seven-minute canter through Lyle Mays's glistening and vivaciously songlike Chorinho - an increasingly animated and freewheeling exchange in which Law improvises sumptuously. Law's dancing Fun at Five and his account of Pat Metheny's typically relaxed and buoyant Lakes express the kind of lightness of touch and spirit that characterise his work. The quietly playful closing Is (Law's thematic complement to Pringle's pensive This) is hypnotic. This album is a document of a musical relationship, and a modestly produced introduction to a talented newcomer, which puts it in a pretty cramped niche. Nevertheless, This Is has plenty of absorbing moments for piano lovers.

John Fordham, The Guardian August 2011

Traditionally, the art of the piano duo has been linked to classical music, and almost every significant classical composer, from Mozart to Maurice Ravel, has written music for two pianos. In jazz, however, this particular medium is somewhat rare, and although Bill Evans recorded Further Conversations with Myself (PolyGram, 1967), where he overdubbed himself on piano, decidedly pure piano duos in jazz have been scarce, with An Evening with Herbie Hancock and Chick Corea: In Concert (Columbia, 1978) being one of the more well-known highlights of the idiom.
Recently, however, with genres being dissolved and more and more classical pianists turning to jazz and vice versa, there has been a new blossoming of piano duos linked to jazz. Brad Mehldau's and Kevin Hays' Modern Music (Nonesuch, 2011) and Chick Corea's and Stefano Bollani's Orvieto (ECM, 2011) are only two of the most prominent examples of the newfound interest in the art form, but one of the strongest efforts comes from the partnership of British pianist John Law and his former student, Mark Pringle, with their album - simply titled This is - taking an encyclopedic journey through the rhythms and textures of their instruments.
It all begins with a bold reading of the third movement of J.S Bach's "Concerto for 2 Harpsichords in C." Here, the two pianists make each note stand crystal clear, while lines sing in fugal harmony, balancing rhythm, tempo and melody in a perfect manner.
From the virtuosity and polyphonic joy of Bach, the geographical location shifts from Germany to Brazil and the sun-baked joie de vivre of Lyle Mays' "Chorinho," whose dancing rhythms twirl around with breathtaking elegance. In this dance, Law and Pringle never step on each other's toes, but manage to retain both intimacy and space among the unfolding notes.
While a broad scope of musical tradition is embraced on the album, with tunes covering everything from J.S. Bach to Cole Porter, the real highlights of the album are the originals. Among them, the title tunes - Pringle's "This"; and Law's "Is" - are especially fascinating, both combining the vocabularies of jazz and classical in a singular and seamless way, coalescing improvisational surprise and a deep elegiac musicality that pays attention to every detail of their instruments' sound.
This is ends up being quite an apt description; this music could only be played by John Law and Mark Pringle.
Track Listing: J.S. Bach Concerto for 2 Harpsichords in C 3rd Movement; Chorinho; This; Fun at Five; Fields; Lakes; Betty Blue; Triadic Ballet; Alone; I Love You; Is.
Personnel: John Law: piano, glockenspiel (12); Mark Pringle: piano, glockenspiel (12).
Record Label: 33 Jazz

Jacob Baekgaard, All About Jazz October 2011