John Law Monk 'n' Junk ASC CD81
John Law, piano; Alec Dankworth, bass; Dave Wickins, drums/percussion; Julian Siegel, sax/bass clarinet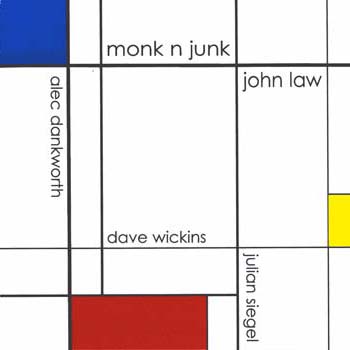 John Law is a hidden treasure of the UK jazz scene. Alfred Brendel once went so far as to commend this "highly gifted maverick".
Here, Law's trio is joined by saxophonist Julian Siegel on a repertoire of Thelonious Monk pieces and standards, and a nod to another "gifted maverick" - Ahmad Jamal. Law plays Straight No Chaser as a stream of long, coolly swinging lines and stabbed accents, and throws provocative countermelodies and punchy chords at a full-on Siegel in the later stages of the Jamal vehicle Poinciana. This is the kind of retro-jazz that gives the genre a good name.

John Fordham The Guardian March 2006
---
John Law Monk 'n' Junk ASC CD81
John Law, piano; Alec Dankworth, bass; Dave Wickins, drums/percussion; Julian Siegel, sax/bass clarinet

British piano virtuoso John Law, plus the versatile Julian Siegel, steaming through a programme of Thelonious Monk pieces, jazz standards and a hint of Ahmad Jamal. Law is a wonderful pianist who reappraises the jazz tradition from the widest contemporary-music angles without feeling compelled to incorporate electronica or street-licks. He's also a formidable improviser with a pianistic resourcefulness that could be compared to Jarrett without exaggeration - the account of Straight No Chaser here bears comparison with anyone's, and Law crisply complements Siegel on a startling account of the Jamal vehicle Poinciana. Monk's Jackieing is also a standout for Alec Dankworth's bass lines.
One of the 2006 CDs of the year!

John Fordham Jazz UK Magazine May/June 2006