JOHN LAW TRIO GIANT LEAVES (AUTUMN STEPS) and THE ONLIEST -- PICTURES FROM A MONK EXHIBITION FMR CD32 and FMR CD38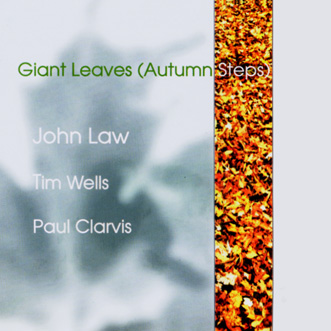 Two excellent releases from a team that invites comparison with Jarrett's Standards Trio and the great Bill Evans/La Faro/Motian group. Three British musicians have emerged over the last few years who are genuinely world class - trumpeter Byron Wallen, reeds player David Jean-Baptiste and John Law. These two albums confirm and consolidate Law's status. They also do a great deal for his cohorts, Wells and Clarvis.

GIANT LEAVES is a heady mix of improvisation and straight ahead playing that could well sum up the values of this magazine! The trio deconstruct standards, play with their melodies and harmonies and discover in them their abstract core. The level of empathy between the players is quite remarkable. Clarvis has already established himself on the scene as a gifted and individualistic (even eccentric) improviser. Wells is equally talented, if less obviously so. Both albums would be the lesser without him. His playing is the heart around which this music revolves.

The Monk album is a project of considerable importance for all involved. From Melanie Day's artwork based on her wooden collages inspired by Monk to the recurring piece that links Monk's compositions, the inspiration and echo of Mussorgsky's original work is deliberate.

The album has one shortcoming. At times, it seems that pieces like MYSTERIOSO and BEMSHA SWING cry out for more radical treatment. This trio could carry it off. However, there is no doubting the delights of their reading of ROUND MIDNIGHT or IN WALKED BUD. Wells really comes into his own on MIDNIGHT and EVIDENCE (two versions). Clarvis swings so easily that the Motian comparison flatters both him and the ex-Evans alumnus. And then there is John Law. BUD bounces and EPISTROPHY is taken at a hell of a lick! He really is a major talent!

Chris Parker Avant Magazine Spring 1997