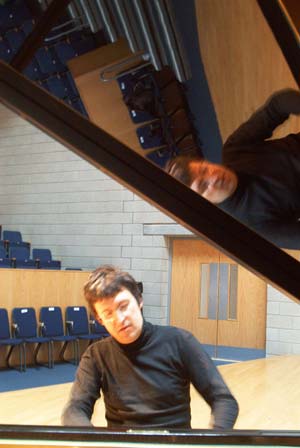 Journey to the heart of Monk Independent On Sunday 21 September 2003

Thelonious Monk is a jazz legend. But are you a Trinkle Tinkle nut? Or does Epistrophy shake your tree? Phil Johnson asked eight pianists for their pick of the master's peculiar melodies.
I saw the name before I heard the music: "Thelonious Monk is God" scratched into the plywood panelling of a mysteriously antiquated railway carriage, as if the train were coming from out of the past instead of from Newcastle's Central Station. United reserves were playing a midweek afternoon game, and I was playing truant to go and see it. Shortly afterwards, I bought a cheapie Down Beat poll-winners LP whose back catalogue gems included the immortal Ruby, My Dear, with John Coltrane on tenor sax. This is close to as deep as it gets. And Thelonious Monk (1917-82) goes way deep. For me, we're not talking Charlie Parker, Miles Davis or even Duke Ellington; we're talking Matisse, Chekhov, Hitchcock. With Monk, an exquisite musical sensibility is smuggled inside the lineaments of a hip, off-the-cuff style, and that's the point. He's light as a feather and as serious as your life, funny-peculiar and funny-ha-ha. Decades before Rachel Whiteread, Monk was also a master of negative space, notating the gaps between the dots until they joined up into one madly pixilated line; the path of a cartoon drunk going for a walk.
There's something of the funny papers, of Krazy Kat and even Robert Crumb, in Monk's world. The laws of physics have become subject to a kind of primal lurch, and everything dances to a strange a-rhythmical rhythm. In Charlotte Zwerin's brilliant documentary film, Straight, No Chaser, you can see Monk move to this rhythm too, dancing in circles by the piano at a gig. It looks cool and wacky until his son says how he used to do it for days at a time in his room, until they had to send him to the hospital.
Like J.S. Bach, maybe the Beatles, and probably no one else, you can listen to Monk all day every day and never get bored. How could you, when all of music is in there too, hymns and folk songs rubbing up to Bartok and Gershwin, Ellington and Eubie Blake. The attraction for musicians is obvious: strong, utterly Monkian melodies combined with seductively open harmonic and rhythmic structures: "play me!", they call out imploringly.
The titles are works of art in themselves: Misterioso, Epistrophy, Crepescule with Nellie (written for his wife), Panonica (for his mistress). Then there's the self-reflexive ones: Monk's Dream, Blue Monk, Monk's Mood, Monk's Point, where the composer becomes a character in his own work. Three of the pianists we asked for their favourite Monk numbers came up with the same one: Trinkle Tinkle. He defies interpretation. You just have to give thanks. And listen to the tunes.
Jamie Cullum: Brilliant Corners "Nobody learns Monk from the score - you have to know it off by heart. The tune has so many changes of metre and the melody is really angular, yet it's so complete. It's like a Bach two-part invention or something. His tunes are deceptively complicated; they sound simple but they're not. He was also a very soulful guy, and I love the way he just persisted, the longevity of his work. He wasn't a flash player, but he's a monster."
Esbjorn Svensson: Rhythm-A-Ning "I don't know if I have a favourite; they are so many. I think he was a genius in many ways, as a pianist and as a composer. I have no difficulty comparing him with Beethoven or Bach. By using less notes he created the most wonderful music - there's not one note too many. I love Rhythm-A-Ning particularly, partly because of its wonderful melody, which is timeless, and we used to play it in the trio a lot. Like a lot of tunes, the chord changes are based on I Got Rhythm. It's so simple yet so rich; so simple that you can sing it, but at the same time complex, in a positive way."
Joe Henry: Hackensack "Monk was my doorway into jazz. In fact, I still remember where I was standing, at 15, in a friend's makeshift photo darkroom when he dropped the needle on Hackensack, the first track on Criss Cross. I was electrified by its playful melody, its wilful dissonance and its swinging take on the blues. I am reminded of the quote from Picasso where he said, "when I was 22 I could paint like Rembrandt, but it took my whole life to learn to paint like a child." To me, Hackensack is the sound of a man completely in control of his powers, but down on his knees like a kid, painting with his fingers."
Stan Tracey: Crepuscule with Nellie
"Why? I can't describe it. It isn't difficult to play and it gives me a lot of pleasure."
Jonathan Gee: Trinkle Tinkle
"The feel is mid-tempo swing, and it has a very strong melody that sounds like it was written for snare and hi-hat. The basic circle of fifths-ish harmony is quite original, and the voicings in the second half of the bridge are unique in jazz. It is a 32-bar 4/4 AABA structure with two exquisitely placed 2/4 bars. It could only be written by Monk. It's not that hard to play if you listen to Monk's version over and over again and learn it mainly by ear, with only minimal reference to a transcription. The version with Coltrane is the classic."
Julian Joseph: Trinkle Tinkle "When I was 13 or 14 I learnt a tune by Monk along with several other pieces, including classical ones. I had a very hip teacher who thought I should go for a scholarship being given by the education authority. I went and played the pieces and got the scholarship. But the only piece the examiner commented on was the Monk tune - said I was a little young for it and would grow into it. The tune was Trinkle Tinkle."
Jason Rebello: Trinkle Tinkle "I find it hard playing Monk tunes because you can't just improvise in a way that's unrelated to the melody. I don't know why that is. If you don't solo with reference to the head it always sounds a bit naff to me. I think he's one of those artists that you need to be careful with their tunes. A bit like doing a cover version of Purple Haze or A Love Supreme by John Coltrane. My favourite is Trinkle Tinkle. The melody is outrageous. It's hard to play it exactly right and almost impossible to write it down accurately. I like the way Monk's tunes usually have a simple motif that is developed. They're very economical. Every piece of his is complete. He manages to get so much variety out of the be-bop/standards harmonic language and also rhythmically there is always a lot of interest."
John Law: a tie - Locomotive, Straight No Chaser and Epistrophy"I love all Monk's compositions. Rather like a treasure chest full of precious jewels, you can pick individual ones up and admire them but, in the end, you want to take the whole lot: they're all masterpieces. I find the tunes that allow me to develop my own musical language are the ones where I can pick up on a strong motif and then subsequently hang the improvisation on that. These are three I keep returning to. I also find that Monk's music has a therapeutic value, sort of cleansing with its melodic strength and directness - what the drummer Dave Wickins once referred to as "melodic irrigation"."