Chorale and The ghost in the Oak
John Law, solo piano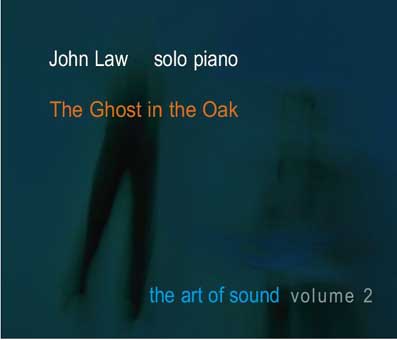 This British piano virtuoso runs a sublime, somewhat Brad Mehldau-inspired trio - but he is a fearsome unaccompanied player, too. These two albums of contrapuntal improvisations may bring Keith Jarrett's Köln Concert to mind. However, devotees of classical piano may be drawn by Law's elegiac and flawlessly stroked slow explorations of chord voicings. He doesn't hide the years of detailed preparation that have gone into his music, so you don't get Mehldau's deceptively lazy, slow-burn restraint, or a loose deployment of the left-hand ostinatos that Law tends to keep remorselessly tight. But the Englishman can still be light and playful - as on the rocking Zero-G, which suggests early, hard-swinging Abdullah Ibrahim. The Last Dance gently explores twangy prepared-piano; Fair Weather Friend features a boogie feel, Monkish chordal jolts and swing-style trills; and the three-part Little Suite is a lovely display of Law's classically immaculate sense of form and contrast. There is little to choose between the albums, though volume two might just clinch it for variety.
**** Four stars

John Fordham, The Guardian September 2008

It is possible that my decision to review CDs for Cadence was not the most financially successful component of my plan to be a multibillionaire before the age of 60 but at least from time to time it allows me to make acquaintance with excellent artists deserving of wider recognition, such as John Law. Case in point is the issue of two recent solo piano CDs, (1) and (2) - really one CD, as they were recorded at the same sessions in 2007. Contained therein lies some beautiful, engaging playing and writing. Law's playing reflects the influence of John Taylor and Keith Jarrett and perhaps even some Brad Meldhau as well. Naturally, no-one likes to be defined solely by their influences but fortunately Law's own musical conception extends beyond his influences and into his own creative area. In the purely technical arena, on this CD he is also exploring new ground. Here I'm primarily referring to his impressive polyphonic chops and startlingly autonomous hand independence. "Ghost" is a particularly lyrical example of this technique at work and here he successfully delineates at least four separate layers of musical content to beautiful effect. Elsewhere, he impresses with his schizophrenically independently fleet improvised lines over devilishly involved ostinati. "Zero-G," "Jumped Up," and "Turbolence" are impressive examples of his technical skill in this area. Of course, technique is nothing if it doesn't sound good but fortunately the aforementioned "Ghost" (as well as several other of his compositions) is hauntingly beautiful. Law has a gift for piquant compositional ideas and while perhaps one can trace "Jumped Up" back to Jarrett, for example, tunes such as "For Me," "Paranoia," "The Last Dance," and the "Little Suite" offer ample evidence of his originality. It was a gratifying experience listening to both of these CDs and my appreciation of Mr. Law and his music only grew with repeated listening. Recommended.

David Kane, Cadence July 2010